Day Camp Menu
Register Online
Big Blue Tarp Blog
Top Three Questions (Almost) Every Parent Asks! Part 3 [April 18. 2017]
by Mooredale Day Camp
Top 3 Questions (Almost) Every Parent Asks: Part 3

As a parent, I am well aware of the stress one can feel in the morning when confronted with that age-old question:
What am I going to send with them for lunch?
(If you missed Questions 1&2, you can
catch up here
)
Well, when you sign up for Mooredale Day Camp your mornings will be stress free** because you'll know that we take care of all the food!

(**other than waking your child up, getting them dressed, answering their questions, preparing them breakfast, cleaning up breakfast, changing their outfit because of the spilled breakfast, answering more questions, brushing teeth, walking the dog, finding the sunscreen, remembering you forgot to dry their swimming towel, frantically looking for another towel, answering more questions, getting everyone into the car…)

Introducing The Lunch Mom and her 'lick-the-plate-clean' lunches!
The Lunch Mom really is a mom, and she brings us lunch every day - nice and warm, served on a plate with real cutlery. Her lunches literally had some children licking their plates and asking for seconds, and even thirds! The Lunch Mom is a mom of two boys who started a
local catering company
based in Leaside. TLM provides our lunches as well as our morning and afternoon snacks. She does a great job of balancing taste and nutrition to make sure both parents and campers are happy with her meals. Of course, accommodations for dietary restrictions and allergies will be made when necessary.
Don't take our word for it, here's what one camper mom had to say:
"(My son) absolutely loved the lunch provided and would come home asking me to make whatever he'd had for lunch that day."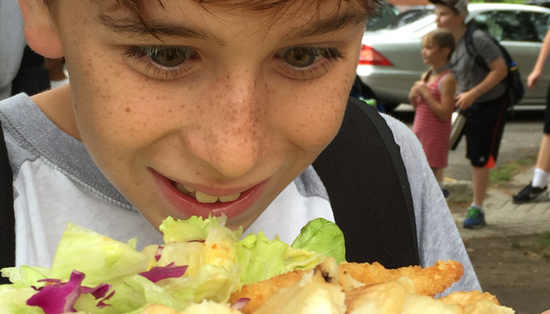 In the weeks before camp we will share the summer menu with our families. We look forward to the most popular meals returning this summer: meatball subs, chicken popcorn, spaghetti with garlic bread and Caesar salad, hamburgers and more. Every lunch includes a salad and a fresh vegetable, and our morning snack is a fruit like watermelon, apples or oranges. Our afternoon snack is usually a baked treat, salsa and tortilla chips, or frozen yogurt tubes.
Hungry yet?! Chances are this post has you thinking about a snack, so I'll let you get going.
This concludes our short series on the most popular questions our parents have before starting camp. If you know of someone who has questions about our camp activities, send this blog post to them or better yet, tell them contact me directly at
daycamp@mooredale.on.ca
, or 416-922-3714 ext 105.
Eric
P.S. Are you finished with making lunches and ready to register? Don't delay – you can go directly to our
registration page here
!
Day Camp Menu
Register Online